Keynote Speakers
Panagiota Tzamourani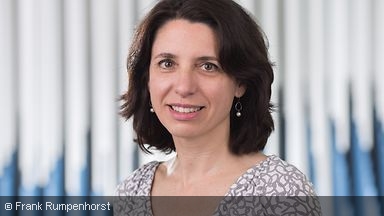 Panagiota Tzamourani is a Senior Economist in the Research Centre of the Deutsche Bundesbank. Prior to joining the Bundesbank in 2013, she has held positions at the European Central Bank, the Bank of Greece and the National Centre for Social Research (UK). She holds an M.Sc. and a Ph.D. in Statistics from the London School of Economics. Her research interests lie in the fields of household finance, financial literacy and survey methodology.




Prof. Dr. Dirk Loerwald

Prof. Dr. Dirk Loerwald is professor for economic education at the Carl von Ossietzky University Oldenburg and scientific director of the research institute IÖB. He is also president of the German Society of Economic Education and member of the board of the Alliance for Economic Education Germany?







Kristof De Witte
Kristof De Witte is a professor in Education Economics and Political Economy at the Faculty of Economics and Business at KU Leuven, Belgium, and he holds the chair in 'Effectiveness and Efficiency of Educational Innovations' at United Nations University (UNU-MERIT) at Maastricht University, the Netherlands. Kristof De Witte is further a Fellow member of the CESifo Network, and of the Finish VATT Institute for Economic Research. At KU Leuven he is program director of the 'Master in Economic Education', and founding member and director of the research group 'Leuven Economics of Education Research'.

The research interests of Kristof De Witte comprise education economics, performance evaluation and political economy. His research is funded by various national and international organizations. He published 59 papers in Q1-journals among which many leading academic journals including 'American Sociological Review', 'The Economic Journal', 'Journal of Urban Economics', 'European Journal of Operational Research', 'Economics of Education Review', 'Labour Economics' and 'Educational Research Review'.

To increase societal impact, he is actively disseminating his research output to Dutch field journals, policy journals and media. De Witte's work has been frequently featured in national and international newspapers such as the New York Post, the Washington Post and El Pais. Multiple of his papers have had a documented impact on policy making through invited seminars at the European Commission, the OECD, and the Flemish Parliament. He serves as an expert in the 'European Commission Expert Group on quality investment in education and training'. He is an associate editor for 'International Transactions in Operational Research', and former guest editor in three academic journals.

De Witte is the recipient of numerous awards and honours, including the '2021 Pioneer Award' of KU Leuven (10,000 euro) and the '2020 Laureate of the Academy' award from the Royal Flemish Academy of Belgium for Science and the Arts (10,000 euro), two international prizes for his doctoral dissertation, six paper prizes, an award for his undergraduate thesis, and an award at the end of secondary education.

LEUVEN ECONOMICS OF EDUCATION RESEARCH - LEER
Personal website.


Carmela Aprea
Carmela Aprea is full professor at the University of Mannheim, where she holds the Chair of Economic and Business Education - Instructional Systems Design and Evaluation (https://www.bwl.uni-mannheim.de/en/aprea/). She is also director of the recently founded Mannheim Institute for Financial Education (MIFE) (https://www.uni-mannheim.de/en/mife/).
Carmela Aprea is member of the Editorial Advisory Board of Social Studies Research and Practice and serves as an expert for several national and international organisations such as the OECD International Network on Financial Education Research Committee, the OECD PISA Financial Literacy Expert Group, and the Foundation Deutschland im Plus (Germany on the plus side). Among others, she is editor of the International Handbook of Financial Literacy (Springer, 2016: https://www.springer.com/gp/book/9789811003585) and the book Game-based Learning Across the Disciplines (Springer, 2021: https://www.springer.com/gp/book/9783030751418).
The current research interests of Carmela Aprea comprise mental representations of complex socioeconomic issues, financial and economic literacy education for the 21st century, game-based learning in business and economics education, resilience in educational and professional contexts.